The press speaks about it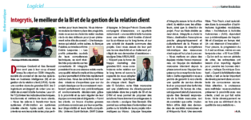 Package driven
La connaissance des solutions progiciels du marché et la capacité d'en tirer parti au mieux selon les besoins métiers et les spécificités de l'entreprise
About Integrytis
INTEGRYTIS is a consulting and service company specialized on Business Intelligence and CRM.
We offer a large offer starting from the advice upper to the externalization by way of the production and the training.
Our job
We participate in improving business performance by working with our customers to optimize their technical, functional and business indicators.
A new way to do
We offer to our customers a very different approach through our «collaborative» method focusing on skills' transfer.